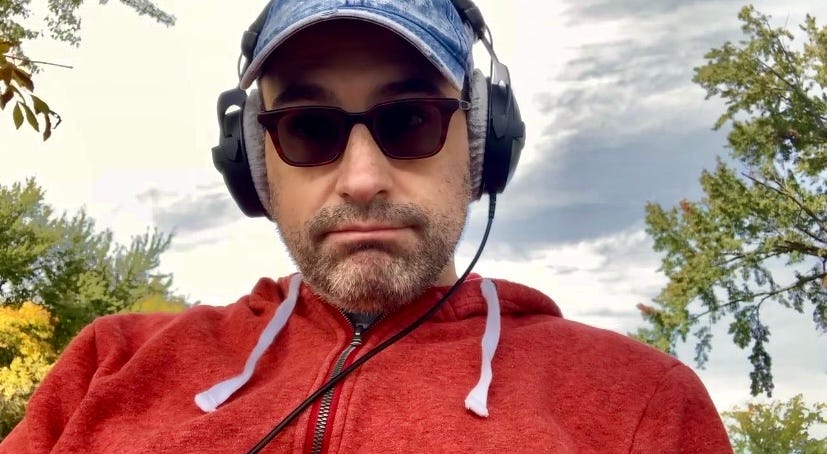 I said there would be a podcast coming, right? I think I meant that about 60 percent seriously. Well guess what! A podcast I declared, and a podcast I have made. After a few frustrating stabs at a more "professional" sounding audio product, I opted to go for something more personal and informal. So the new Near-Earth Object podcast was recorded, audio and video, from a bench beside a river. I kind of like how it turned out, and who knows where I might record the next one.
The video version is easy to get. It's just right there on YouTube.
The audio podcast is making its way through the various tubes of several podcast apps and services, (here it is at Pocket Casts, Stitcher, Podbean, to start) but I presume it will be widely available by the time you read this. I hope you like it.
---
I'm thinking about normalcy. A few weeks ago, I wrote about how the abnormality of the crisis-buffet from which we are being force-fed, the so-called "new normal," does not seem to be causing some kind of great awakening, but rather the "old normal" is clawing its way back.
But then the president got the coronavirus. And it dawned on me, well, of course he did. And the fact that he got it (along with all the other folks who got it with or from him) just meant that things operating, well, normally. The times aren't normal, but the way humans react to the abnormal times, and the way natural phenomenon like viruses behave, are normal.
And even though none of this means that things are just fine, or that things will get meaningfully better, it is, weirdly, comforting. Read the whole thing.
---
In other news, I've rewatched One Flew Over the Cuckoo's Nest for the first time in many, many years in preparation for checking out the new Netflix show Ratched. Some quick thoughts:
Go watch Cuckoo's Nest, whether you've seen it before or not, and just revel in the masterful acting work being done by this ensemble without parallel.

Watching Cuckoo's Nest will in no way prepare you for the show Ratched. Four episodes in, the only connection between the movie and the TV show is the fact that it's about a stern psychiatric nurse with the same name in the time just before the events of the movie. The Nurse Ratched as excellently performed by Sarah Paulson in the TV show seems, at this stage, to have nothing to do with the character as so exquisitely performed by Louise Fletcher in 1975. Don't try to square that circle. It's just something else.

All that said, I still can't tell if Ratched is brilliant, ridiculous, overindulgent, insipid, visionary, a curious novelty, or some mixture of all of that. But the fact that I still don't know must say something good about it.

---
I have a Patreon if that's a thing you'd like to help out with. Behold, the button: